"Light creates the environment, and the environment creates the mood, and the mood creates the amazing experience your guests will be talking about forever"
LED Up Lighting
---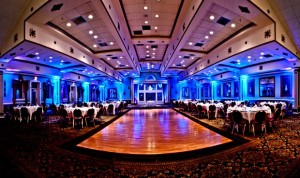 Up Lighting is a great way to enhance the ambiance of your reception and to surround your guests with the wedding color of your choice. Whether you are hosting your reception in a conference room, club house or the most elegant ballroom in town, you now have the ability to take your venue to the next level.Our advanced lighting systems utilizes wireless technology.
L.E.D. Up Lighting is available in four different packages.
We welcome the opportunity to explain the benefits of each package based on your needs. The lighting packages we offer are listed below.
Personalized Lighted Monograms
---
Personalize Your Wedding!Nothing adds to your wedding more than a Personalized Lighted Monogram. This Monogram will add an elegant decorative effect to your reception and highlight your first dance. You can select to have your names, initials or a custom designed monogram appear in beautiful LED lights for you and your guests to enjoy.
We can help you create the perfect design to display on the wall, dance floor, or anywhere! Monograms provide a wonderful back drop for your pictures and are a great way to bring a personal touch to your wedding.
Please contact us for more information regarding our customized lighting.
LED Accent Lighting
---
Don't let your beautiful centerpieces or wedding cake go unnoticed! Pin spot lighting is a unique way to highlight your event decor. This accent lighting adds drama by enhancing your centerpieces and other focal points. Ordinary event tables can be transformed with this beautiful, vibrant lighting. A pin spot is a focused static beam of light which illuminates a special object and is the perfect way
to enhance centerpieces, wedding cakes, signage, guestbooks, sweetheart tables or anything else you would like to draw attention to.
We look forward to answering any questions you may have regarding our enhanced lighting systems.
---
Transform your next event from ordinary to Extraordinary with Michael Anthony Productions Lighting